Mine Winder Communication Systems
Safe communication between components of a shaft hoisting system.

CERBERUS – CONVEYANCE COMMUNICATION SYSTEM WITH WIRELESS DATA – VOICE – VIDEO
TECOM's SIL 3 rated Conveyance Communication System CERBERUS enables fast and reliable transfer of all safety and control information over long distances. CERBERUS is capable of interfacing with several devices through SIL2 and SIL3 remote digital and analog I/O blocks all simultaneously. 5.8 GHz wireless data transfer between devices is achieved via SIL3 Ethernet concepts over a fixed point aerial network, providing a robust and safe means of sending safety-related data over long distances using the communications medium that suits the application best.
Remote area control and safety
One of the major concerns for any operation, when working in remote areas, is personnel safety. another is controlling equipment and infrastructure over large distances and of course ensuring no unplanned movements during operation, maintenance, servicing and inspections. CERBERUS is designed to ensure safety of personnel whilst operating, working or inspecting any conveyance.
Winder communication and control
Mine winders are considered a high risk plant, the failure of which has the potential for multiple fatalities. Some winders have the ability to carry in excess of 150 people in a single lift. CERBERUS is a fit for purpose communications system for any kind of winder and conveyance, that ensures the safety of the workforce and the continuous operation of the mine.
TUFF TALK – REMOTE COMMUNICATION UNIT
The TUFF-TALK device is a fixed location audio station, designed to interface with a winder voice radio system. The associated audio and PTT request are simply conveyed by a twisted-pair, reticulated from the required fixed location back to either the winder communications panel or another fixed audio station. The unit can be powered by a local 12 VDC supply or an internal 85-265 VAC switch mode power supply.
Typical fields of application are Mine Drift Winders, Mine Shaft Winders, Shaft Sinking Winders, Material Handling Plants and all kinds of Conveyors.
FEATURES
Microphone: The Microphone is located in the center of the front panel and accepts the audio of a person's speech, whenever the Press-to-Talk button is depressed.
Volume: The audio level, received from other devices, is controlled by the volume adjustment located on the front panel.
Power/PTT Indication: There is a 8mm diameter green LED located in the central area of the front panel. The IP67 rated LED will be partially illuminated to indicate optional capability and fully illuminated when the Press-to-Talk button is depressed.
Press-to-Talk: To indicate communications from this device to other voice radio devices on this network, simply hold the Press-to-Talk button, speak towards the microphone and release to receive audio.
KPG500 – KINETIC POWERED GENERATOR - ONBOARD BATTERY CHARGING SYSTEM
In mine sites worldwide, batteries are used when no other source of supply is practical due to functional operational restrictions, environmental conditions and/or the physical design of the equipment.
Although modern batteries are very reliable and store a great deal of energy to be delivered as required, the energy must be replaced regularly by a charging system. With mobile plant and equipment this is generally achieved by either constantly swapping batteries in and out of charging stations or by onboard charging systems like alternators or generators.
The continual swapping of batteries quite often leads to both the batteries' life and electrical capacity autonomy being adversely reduced over time, as these effects usually occur when large amounts of energy have repeatedly been consumed/removed.
The solution – Onboard charging of batteries
Onboard charging systems are considered the best way to keep the batteries at an optimal level. Whilst in most mobile equipment applications the onboard generator/alternator is driven by an engine, there are some that use kinetic energy, derived from the angular rotation of a wheel, such as mine site winder conveyances on hoisting systems like cages, skips or dolly cars for both men and materials operations.
One issue faced by Kinetic Power Alternators is that they require a relatively high speed of angular shaft rotation to create sufficient voltage to effectively charge the batteries, typically over 1500 RPM. Often, the above mentioned conveyances will travel with very low speeds, not readily allowing sufficient rotation to achieve the necessary charging current. Therefore, depending on the duty of operation, the batteries would still require to be swapped out for off-conveyance charging, albeit on a less frequent rotation.
TECOM has designed the KPG-500 Kinetic Powered Generator, capable of delivering a charging current on either 12 VDC or 24 VDC battery supply systems.
Advantages of the KPG-500 over hitherto existing equipment
Charging current can be obtained as low as 300RPM
Peak charging performance occurs at 600RPM
Capable of producing 500W at the required voltage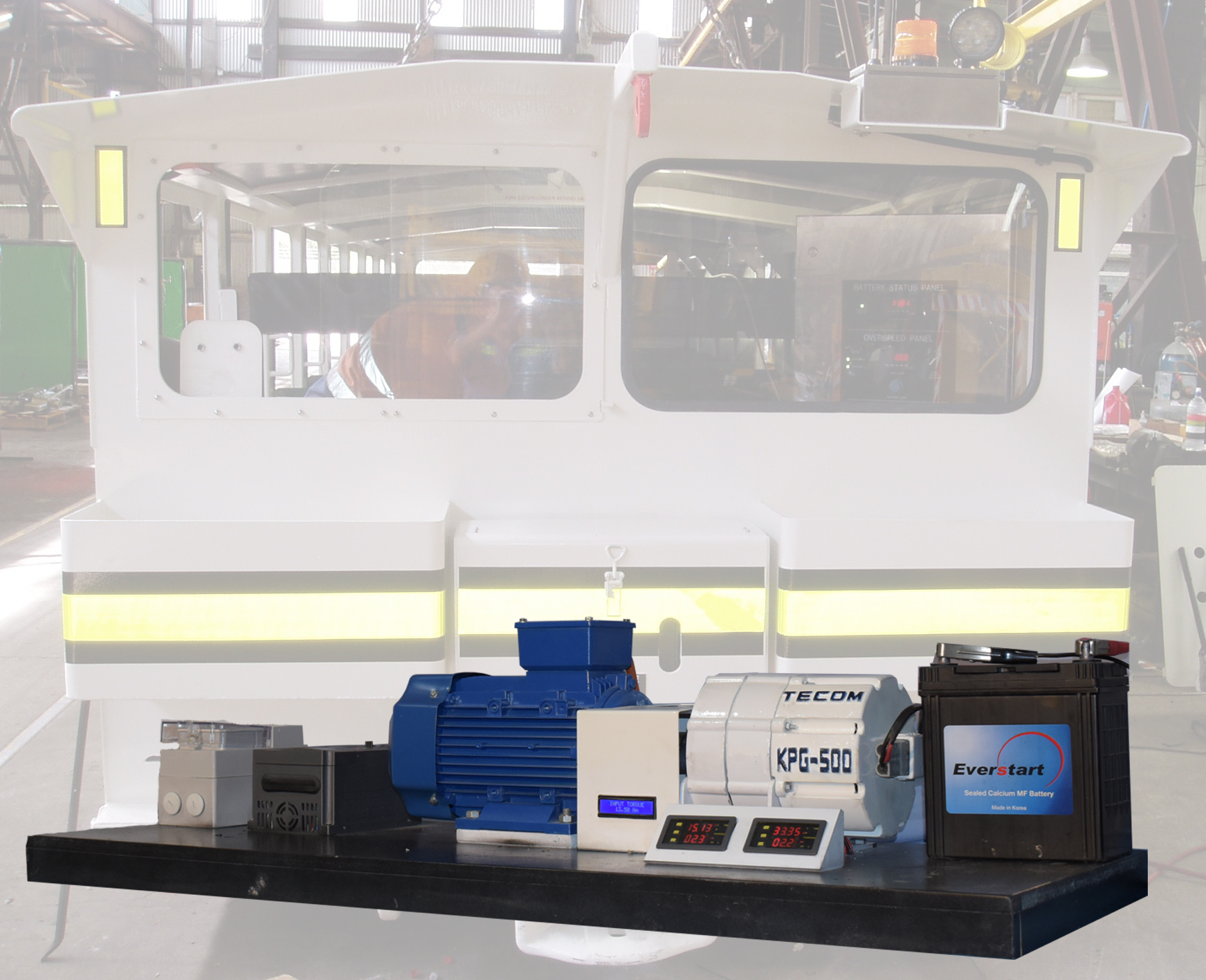 In summary, TECOM's new KPG-500 Kinetic Powered Generator is capable of delivering an impressive 20 Amp charging supply from previously kinetic energy at the required voltage.
Download Product Brochures